Die-cast and Other Collectibles Thread
07-20-2005, 06:35 PM
Die-cast and Other Collectibles Thread
---
as many of us are not fortunate enough to own a GT-R, or a Skyline, we are avid fans nontheless, and are car collectors in our own right.
as the price of real-estate and cars is extremely high, we must resort to the scale-model hobby as an outlet for our wonderful addiction to cars.
if you would like to share knowledge and/or pictures of your scaled cars or other memorabilia, please use this thread to do so.
07-21-2005, 10:18 PM
GTR Member
Join Date: Jul 2005
Posts: 30
---
Bonzelite, this is exactly the sort of thing I was looking for. You are right, not everyone has a GT-R in the garage (although I am sure we would all like to), so sometimes memorabilial and scale models are indeed the next best thing.
I have only been collecting GT-R diecasts since 2000, but fortunately the bulk of releases have been made since then. This has allowed me to obtain all of, say, AutoArt's 1:43 and 1:18 R34 GT-R V-spec and V-spec II cars in all colours, as well as Biante's release of Australian Touring Car GT-R's.
I would like to share some of my collection here, as it represents my favourite collecting theme.
This is Biante's 1:18 release of the 1992 Bathurst winning GT-R driven by Jim Richards and Mark Skaife. As most Australians will remember, the 1992 race was one of the most controversial. The car was declared the winner after crashing at Forrest Elbow and the race was redflagged due to the appalling rainy conditions and myriad of accidents around the famed circuit.
Biante's car uses the old Kyosho moulds, so is now showing its age. Large panel gaps, poor detailing and finish blight the car, and anti-tobacco advertising means that aftermarket decals must be added to bring the car back to how it raced. The problem is that my decals were poor quality, and have since been removed....
07-21-2005, 10:23 PM
GTR Member
Join Date: Jul 2005
Posts: 30
The 1991 Bathurst winner in 1:18, also by Biante, was Nissan's awesome GT-R. Godzilla demolished all comers to the Mountain that year, and was possible the GT-R's most comprehensive victory in its Australian history. This car is finished better than the 1992 car, but still suffers from incorrect detailing. These can still be had for retail price or less, while the 1992 car featured above has quadrupled (or more) in price...
And both cars together:
07-21-2005, 10:28 PM
GTR Member
Join Date: Jul 2005
Posts: 30
Biante also produced the 1990, 1991 and 1992 Bathurst GT-R's in 1:43 scale. Of course, these needed to be added to the collection... These cars use the Del Prado mould, another old one. The detail is not equal to modern Minichamps/AutoArt/Ebbro standards.
*Note: the large blank spaces where the 'Winfield' signage is missing.
Here is a rare Australian release of the 1992 Bathurst pace car. It lacks detail, but is quite limited.
07-21-2005, 10:33 PM
GTR Member
Join Date: Jul 2005
Posts: 30
Ebbro are relatively new to Western collectors, first appearing in any large numbers three years after their foundation. The follwing cars are Nissan's entry in the 1995 Le Mans 24 hours, and are in 1:43 scale.
The third (green) car in the background, "Jomo", competed in the JGTC.
These cars were of course, based upon Nismo's only roadgoing LM car, also made by Ebbro in 1:43:
07-21-2005, 10:38 PM
GTR Member
Join Date: Jul 2005
Posts: 30
Some of my Ebbro 1:43 R34 GT-R's. These have excellent detail, and are quite hard to find now. Ebay does have one or two every now and again.
The Jade Green Metallic car pictured (third from the front) is the 'Nur-spec' car, and only had a worldwide release of 1,000 pieces.
Most people would be familiar with AutoArt's 1:18 R34 GT-R's. They are great models and accurate too. Here is the Bayside Blue V-spec:
07-21-2005, 10:43 PM
GTR Member
Join Date: Jul 2005
Posts: 30
AutoArt's 1:18 R34 GT-R V-spec II, with clear indicator lenses and bonnet vent.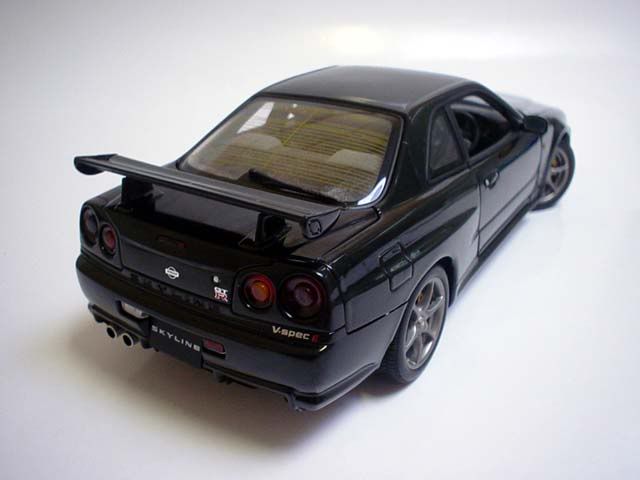 I tried a group shot of AutoArt's 1:18 R34 GT-R V-spec, Ebbro's 1:43 version of the same car, and Kyosho's 'Beads Collection' (don't ask me!?) 1:64 scaled model. It is quite remarkable seeing the gradation of scales.
07-21-2005, 10:50 PM
GTR Member
Join Date: Jul 2005
Posts: 30
Ebbro (yes, I am a bit of a fan of their products) also produced the R32 and R33 GT-R.
Here are some of these models I have:
The blue LM R33:
In white...
And dark grey...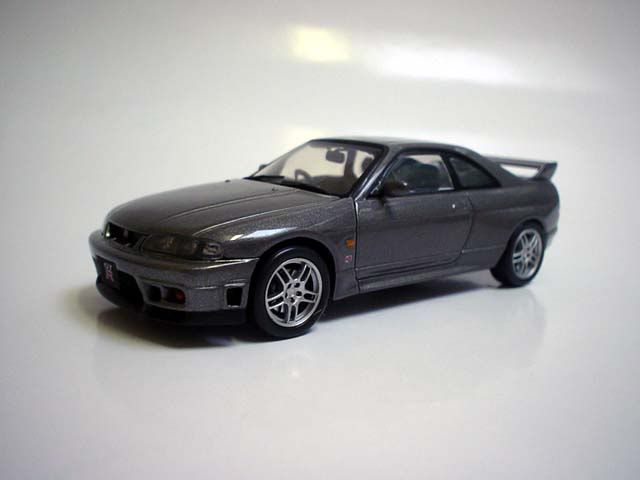 And black, showing the car's profile and muscular form...
And the R32 GT-R - the first release Ebbro ever did (back in 1997). I only have three of these, and am missing at least 5 to have a complete collection.
The R32 is my all-time favourite of the three series (R32, R33, R34).
07-21-2005, 10:55 PM
GTR Member
Join Date: Jul 2005
Posts: 30
A family portrait of my Ebbro 1:43's - R32, R33 and R34 on my own home-made diorama.
I also have a Del Prado and Rosso R32 GT-R.
The Rosso is particularly valuable to me, as this company no longer exists. They operated in the eraly 1990's, were Japanese, and had some link with the Tamiya Corporation. The Rosso cars were ahead of their time, featuring opening bonnets (with engine detail) and opening doors, all in 1:43! The Del Pardo car (in silver) was part of the newsagent-released series, where a new car was released each fortnight. It was therefore important that I obtain the GT-R from this series.
07-21-2005, 11:04 PM
GTR Member
Join Date: Jul 2005
Posts: 30
I couldn't post up pictures of GT-R diecast models without showing the famous Calsonic #12. This particular example is in 1:18, and was made by Kyosho in the early 90's. These are the same moulds that Biante used for their Australian Touring Cars. A Hong Kong Company called 'ToyZone' re-released the original Kyosho cars in different packaging, and limited to only 400 each, a few years back.
And some of my memorabilia. Just a poster from an Australian car show, promoting the batch of 100 Australian-delivered cars in 1991-92.
And an autographed poster of the 1992 Championship and Bathurst-winning Winfield Skyline.
This is a little of the GT-R material I have collected. It means a great deal to me, and I am as passionate a collector of GT-R material as Porsche, Ferrari or any other collector you care to mention.
I would love to see the things other people have in their possession. There is some incredibly interesting stuff out there!